Home Asia Pacific South Asia India


Kalachakra sand mandala immersed
Newindpress, January 18, 2006
GUNTUR, India -- The two-week-long Kalachakra empowerment rituals ended on Tuesday with the immersion of sand mandal in the river Krishna by Buddhist monks at Amaravati.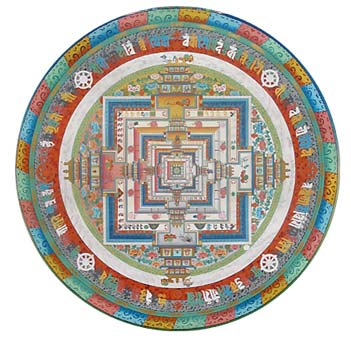 Earlier, the Dalai Lama withdrew from the main discourse dais at 9 a.m. by offering 'pradakshana' around the Kalachakra mandal and greeted the devout.
Later, over 25 monks removed the glass plates on the Kalachakra mandal. The Dalai Lama's official representative Jode Rinpoche stood before the mandal and conducted prayer before dismantling the Kalachakra mandal by drawing a small line with a special instrument. A young monk carried a white metal plate and placed 722 consecrated sand idols.
The devout poured the dust (sand) of the idols on their heads.
Tibetans who were waiting outside for the moment, obtained the soil from Kalachakra mandal and wrapped them in papers and plastic covers brought by them.
Read also: What's Kalachakra all about?