Home Bodhi Wood


Shekhar Kapur to direct film on Buddha
By Bibhuti Mishra, Sify News, December 25, 2004
Bhubaneswar, India -- Hollywood and Bollywood stars are to be roped in for a $100 million celluloid magnum opus on the Buddha's life and teaching. The film would hit the theatres in early 2006 coinciding with the Buddha's 2550th birth anniversary.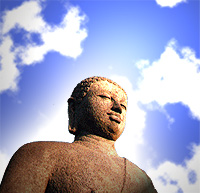 This was revealed by B K Modi, chairman of MCorp Global which would be producing the film.
Modi, who was in Bhubaneswar sometime back, revealed that he had been toying with the idea of making such a film for 17 years as he felt it would be the best way to propagate the Buddha's ideals to a global audience.
Modi is the president of the 113 year old Mahabodhi Society of India.
The film, to be made in the manner of an epic like 'Ten Commandments' and 'Gandhi', is going to be directed by Shekhar Kapur.
The film is going to be part of the Society's plan to popularise the Buddha's teachings during the yearlong celebrations kicking off in May 2005.