Killer waves wreak havoc
Bangkok Post Reporters, Dec 27, 2004
Almost 300 people are confirmed dead, and several thousand people were injured after at least three tidal waves lashed the South of Thailand and swept their way across Asia.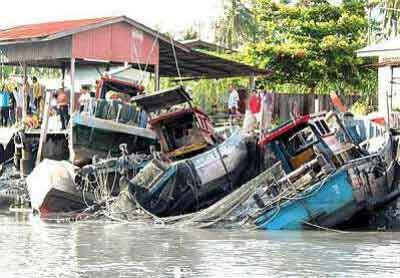 The death toll continued to mount last night as rescue workers uncovered more bodies hours after the first waves struck.

The waves, at least five metres high, struck the Andaman coastal provinces of Phuket, Phangnga, Krabi, Trang, Satun and Ranong.

The earthquake which triggered the tidal surge, centred on the west coast of the Indonesian island of Sumatra, was felt in Bangkok.

On the same day, another quake in Burma sent shock waves to the northern provinces of Chiang Mai, Chiang Rai, Lampang and Mae Hong Son.

A total of 289 people were dead and 3,675 injured, according to the figures presented to Prime Minister Thaksin Shinawatra by the Narenthorn emergency centre at 10pm last night.

The death toll was mounting by the hour as bodies were washed ashore, plucked from the water or recovered from under piles of rubble. The waves flattened small buildings in a matter of minutes.

More than 1,000 people, many of them tourists, were hurt from falling debris. Foreign tourists pulled wounded friends and family members out of the wreckage.

The injured were being nursed on hotel poolside deckchairs metres from debris-strewn beaches.

Phuket was declared an emergency area. Governor Udomsak Assawarangkul said three huge waves struck the province around 8am, 10am and 1pm.

Beachfront vendor outlets were the first to be dragged into the sea.

The governor said the tremor preceding the tidal waves was felt across the province. People panicked as the waves rolled in, sucking tourists into the water, knocking down power poles, uprooting trees, crashing into houses and hotels and tossing about cars.

Mr Udomsak said about 50 boats sank off Phuket. The Sarasin bridge linking nearby provinces was cracked and closed to traffic.

Boats with broken masts swept onto beaches, and roads became impassable. The main road parallel to Patong beach was flooded. Floods as high as eight metres also inundated parts of tambon Rawai, Muang district.

Provincial authorities told people to keep away from Kata, Karon and Patong beaches, in case more waves struck. Phone lines were also down.

The province set up relief centres at the municipality hall and tambon auditoriums. Residents were called in to tend to the wounded.

Traffic in Phuket was paralysed after a power cut. Reports of theft and looting emerged after home and shop-owners fled to higher ground. People scurried with their personal belongings to hilltop lookout points after the Meteorological Department warned of high tides which could develop into advancing tidal waves.

On Koh Phi Phi, navy helicopters airlifted stranded tourists to safety. The waves razed bungalows to the ground.

The Third Fleet sent warships to evacuate people from Phi Phi and Samui islands and Khao Lak in Phangnga.

Seaside villages in Phangnga were full of people in distress. Distraught villagers yelled out the names of missing loved ones. A sleepy fishing village with 53 households near Pakarang cape in Takua Pa district was wiped out.

Felled power lines obstructed main roads to the southern seaboard. Beachside tourist attractions including Tab Tawan, Bang Sak and Bang Niang were damaged and authorities were trying to get to remote areas in which tourists could be trapped.

In Ranong, relief works were hampered by warnings of further tidal waves. Most casualties were reported in Suk Samrang sub-district and Kaper district.

Fisherman Vinai Sampao-ngern, of tambon Kampuan, said he was laying fish nets close to shore when the sea became murky. A gigantic wave curled up in front of him and sank his boat.

He swam to shore but one of his crewmen went missing. "It happened so fast, only three minutes," he said.

Bundit Rattanasombat, Ranong deputy governor, said many people had disappeared and basic necessities were being distributed to the needy.

About 40 shuttle boats capsized and scores of tourists were missing in Krabi, said Chakkrit Serinonchai, acting chief of Nopparat Thara national park.

Four boats ferrying almost 500 tourists from Krabi to Phi Phi Island lost contact with port.

The owner of two resorts on Phi Phi island said 200 of his bungalows were swept out to sea, along with some employees and customers.

"I am afraid that there will be a high figure of foreigners missing in the sea, and also my staff," said Chan Marongtaechar, who was in Bangkok at the time. He believed 700 people could have perished.

Mr Chan said his remaining employees told him by telephone they were scared and wanted to leave, but the waters were too rough for boats.

In Trang, military transport vehicles were used to move residents in Pak Meng beach in Si Khao district. Fishing trawlers and ferry boats plying offshore islands of Koh Kradan in Kantang district and Koh Libong in Palian district sank.

About 50 tourists were stuck in the famed Morakot cave on Muk Island. Choppy seas stopped evacuation crew from getting into the cave.

Public Health Minister Sudarat Keyurapan said more than 100 teams of medics sent from southern provinces were sent to offer help. Doctors were flown by helicopter to islands to treat the injured on the spot.