Residents of Penang embrace new-found awareness after tsunami tragedy
By Gamar Abdul Aziz, Channel NewsAsia, Jan 3, 2004
PENANG, Malaysia -- There is a new-found awareness among residents in Malaysia's worst-hit state of Penang.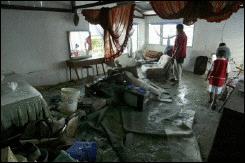 While those who have lost their loved ones and everything they owned have come to accept their now-changed lives as fate, others in the same state who were not directly affected, have also undergone a transformation.
Penang recorded the highest number of casualties in Malaysia from the tsunami - 52 of the 67 confirmed dead.
So even though everything they own is lost, survivors say they are just thankful to be alive.
There is a new spirit of unity among them.
When Channel NewsAsia asked how many displaced families are at a particular school-turned-shelter, one resident could not have put it any better: "We're all one family."
These are people who have gone through other natural disasters, like landslides and floods.
But putting behind a tragedy of this scale and moving on, is something else.
Sulaiman Awang, a fisherman, said, "Everything is totally destroyed, the boat, the net, all gone, there's nothing left."
Fatimah Ahmad, a Tanjung Bungah Resident, said, "I am so scared. I've seen how the waves struck with my own eyes. There are others who were hit worse. I'm thankful that God has saved me."
Besides feelings of sadness and fear, there is also dissatisfaction with the snail's pace at which aid is finding its way to them.
Mohammad Amran Ibrahim, another Tanjung Bungah Resident, said, "During elections, they (local politicians) went house to house but now that this has happened, we haven't seen them for three days. Who are we going to seek help from?"
But help is coming, and not just in cash and supplies.
Phoon Wan Khan, Volunteer, Buddhist Tzu Chi Merits Society, said, "We are doing this because people having trouble, right? We live in the same planet, in same world, we should help each other, we consider (each other) like brother sister."
Abul Kasim SMJ Dzulkaman, Penang Young Muslim Sports Club, said, "I pity them. What if my family had suffered? So I'm helping in any way that I can."
It is clear that even for those not directly affected, there is a new sense of solidarity as all chip in to help the victims, as well as a fresh awareness that the unexpected can become reality.
One Penang resident said, "I feel afraid. We now have a phobia of picnicking by the beach because it (a tsunami) can come suddenly and we may be unprepared so we have to be on the alert."
Another resident commented, "I'm worried and scared and I have a new sense of awareness. I just have to prepare myself and my family and do whatever we can."
Penang residents from all walks of life told Channel NewsAsia that the tragedy has highlighted what is really important in life.
And in multi-racial Malaysia, many are urging their fellow citizens not to see this as a punishment but a lesson.
Malaysians are also using this opportunity to build closer relations with family and friends.