Donated supplies airlifted to victims
The New Straits Times, Jan 2, 2005
PETALING JAYA, Malaysia -- Twenty-two tonnes of essential supplies donated by a Buddhist temple were airlifted to tsunami victims in Sri Lanka today. The items, delivered by cargo operator Transmile Group Berhad, included microwave ovens, food, mineral water, diapers and blankets.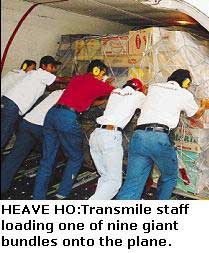 The entire shipment was donated by the Maha Vihara Temple in Brickfields here.
Transmile Air Services operations manager A. Palaraman said the company was transporting the supplies free of charge.
"This is the best way for us to help out in this tragedy," he said at the Transmile Cargo Centre in Subang before boarding the Colombo-bound plane at 8.20am.
"Any organisation which needs help in airlifting aid to tsunami-affected areas can contact us. We will help."
Each return journey costs the company US$50,000 (RM190,000).
Officers from Sri Lanka's Women's Empowerment and Social Welfare Ministry will meet Palaraman at Colombo and distribute the items.
Organisations requiring assistance can contact Transmile's Lee Sok Khoon at 03-78473757 or 016-2018006.