Dental team off to Sri Lanka
BY LEE YUK PENG, The Star, January 6, 2005
MALACCA, Malaysia -- When dentist Dr Ng Guat Kiat received a call on Saturday night, asking her to help people affected by the tsunami in Sri Lanka, she told her husband to take care of the children while she was away.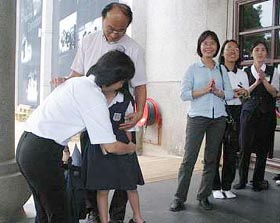 << BYE, MUM: Dr Ng hugging her seven-year-old daughter Hui Jing with Yew beside her as she was being sent off at the Buddhist Tzu-Chi Merit Society building in Malacca on Tuesday. Volunteers near them are singing a song wishing the team a safe journey. Dr Ng's businessman-husband Yew Kwong Chai said last year she served in the society's missions to Pekan Baru and Batam, both in Indonesia.
Then she packed her bags, got a locum to run her dental clinic, and joined the Malacca Tzu-Chi Merit Society mission, who left for Colombo from Singapore yesterday.
Dr Ng, aged 42 and who has three children aged 14 to seven, is one of 43 Tzu-Chi volunteers from Malaysia and Singapore who would be taking with them 200kg of medicines such as painkillers, cough syrup and antibiotics donated by pharmaceutical firm Xepa Soul in Malacca, and two mobile dental chairs.
An earlier batch of 36 members left for Sri Lanka on Dec 28.
Dr Ng, another dentist Dr Chong Fat Full, nephrologist Dr Wee Tuan Hong and pharmacist Tan Swee Yin each forked out between RM3,000 to RM4,000 for this trip.

Dr Chong, from Tangkak in Johor, said he had closed his clinic for a week and had left his two teenage children under the care of his wife.
Team co-ordinator, Eileen Gan, said they learned from the earlier team that dental service in Sri Lanka was lacking.