Dharma assembly of Blessings for Asian Tsunami victims
The Buddhist Channel, Jan 7, 2005
Kuala Lumpur, Malaysia -- A "Dharma assembly of Blessings" for the victims of the Asian Tsunami Disaster will be held at the Stadium Negara in Kuala Lumpur on Saturday, January 15, 2005 at 7.00 pm. The assembly will be the largest Buddhist gathering held in the country in recent memory, as 10,000 participants are expected to attend.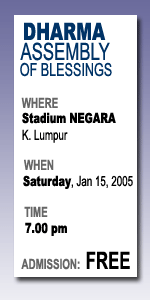 About 400 monks from all the major Buddhist streams i.e. Mahayana, Theravada and Vajrayana will be present to lead the chanting. Twenty Buddhist organizations are working together to make the gathering a reality.
The aim of the event is to enable Malaysian Buddhists to transfer merits via united and collaborative chants of compassion to all those effected by the disaster. "This is an opportunity for Buddhists to show our concern to all those affected by this calamity," said Goh Seng Chai, organizing secretary of the mega event.
"Let us all gather at this stadium, chant with great compassion, radiate thoughts of loving kindness and transfer our merits to the victims," he added.
"This meritorious and meaningful event is not just a spiritual gathering, but a demonstration of collective karma through the generation of positive thoughts led by 400 venerables", explained Datuk Tan Chai Ho, the Deputy Minister of Home Affairs who also is the project's adviser.
Announcement

Due to the expected capacity crowd of 12,000 at Stadium Negara, members of
the public are advised to
utilize the Light Rail services:

- Monorail: Maharajalela station

STAR-LRT: Hang Tuah station

10,000 chants, 10,000 voices of Great Compassion

May the merit accrued by those at the Stadium revebrate throughout all spheres of existence, above, below and across.
May all beings be calm and peaceful

Malaysian Buddhists from all schools are urged to come and participate with one heart and one voice to generate the great transference of merit to all those who have suffered and are suffering due to the Tsunami disaster
It is expected that Chinese members of the Malaysian cabinet, representing ministers, deputy ministers and others VIPs are expected to attend. For further updates and new information, please logon to The Buddhist Channel.
Dharma assembly of Blessings for victims of the Asian Tsunami Disaster
Where: Stadium Negara, Kuala Lumpur, Malaysia
When: Saturday, January 15, 2005
Time: 7.00 pm