Dalai Lama tsunami donation
The Australian, January 6, 2005
Dharamsala, India -- THE spiritual leader of Tibetan Buddhists, the Dalai Lama, as well as the government-in-exile of Tibet have made contributions to help Indian victims of the tsunami disaster, his office said today.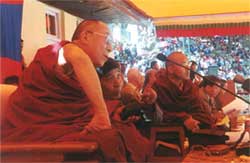 The exiled leader, who resides in India following the 1949 Chinese takeover of Tibet, was on his annual retreat when last week's tsunami hit Indian Ocean nations, but has written letters of support and condolence to the leaders of India and Sri Lanka, Indonesia and Thailand, his office said.
The Dalai Lama gave 500,000 rupees ($14,615) to the Indian Prime Minister's Relief Fund while staff members of the exiled government have contributed two day's salary, officials said.
"Any human tragedy provokes equal human sympathy," said Thupten Samphel, a spokesman for the Tibetan government-in-exile.
"Tibetans are specially moved by the fact that India and the people of India have been such generous hosts for Tibetan refugees for more than 40 years."
Contributions from the Tibetan public are meanwhile pouring in at settlements in India.
The exiled government held a public prayer ceremony for the victims immediately after the tragedy.
The official toll in southern India from the tsunamis rose again today to reach at least 9675 people confirmed dead and 6107 missing, most presumed dead, the government said.