Row over tsunami bodies ends
The Advertiser (AFP), Jan 23, 2005
Bangkok, Thailand -- A ROW over plans to move the bodies of thousands of Thai tsunami victims from a Buddhist temple has been settled after more than 1000 protesters rallied outside the makeshift morgue, the local governor said today.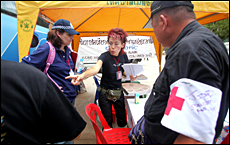 << File pic: Forensic expert Porntip Rojanasunan coordinating body identification at a makeshift morgue in Yanyao temple
Following the mass demonstration yesterday by locals from across Phang Nga province, authorities cancelled a plan to move all bodies from the Yanyao temple at Takua Pa to an identification centre on the resort island of Phuket 100km to the south.
"The unidentified corpses will not be transferred, only the bodies of almost 1000 foreigners will be transferred to where the bodies are being kept in Phuket," Phang Nga Governor Anuwat Metheewiboonkit told AFP by phone.
Phang Nga was the worst-hit province. Locals have been concerned that shifting bodies from the temple would make it harder for them eventually to claim relatives who were killed by the ocean surge.
More than 5300 people were killed in Thailand. Of the 1785 bodies so far identified as Thais, 1130 of those were from Phang Nga.
The bodies of some 2000 victims are stored at Yanyao temple, according to the forensic expert running the giant makeshift morgue, Porntip Rojanasunan.
Forensic experts from more than 20 countries have worked with Porntip's team at the centre.
Thai officials earlier this month reached a compromise over a row about who was in charge of identifying thousands of tsunami victims at the temple.
Porntip had threatened to resign after police moved in to take over duties she had rushed to fill in the aftermath of the tsunami.
Prime Minister Thaksin Shinawatra smoothed over the row by stressing that police had full jurisdiction over the process while insisting that the centre be run by Porntip.
Forensic experts have said the process of identifying bodies kept in refrigerated containers at the temple could take months to complete.