Tzu Chi to build new town in Sri Lanka for Tsunami victims
by Charles Kang and Sofia Wu, CNA, Feb 2, 2005
Singapore -- The Singapore and Malaysia branches of the Taiwan-based Buddhist Compassionate Relief Tzu Chi Foundation will build a new town in Sri Lanka's Kajuwatta area to accommodate displaced survivors of the Dec. 26 tsunami catastrophe, a spokesman for Tzu Chi's Singapore branch said Wednesday.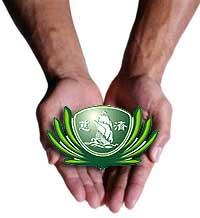 The spokesman said Kajuwatta will be one of the 15 new townships to be built along Sri Lanka's southeastern coast, one of the hardest tsunami-hit areas.
Tzu Chi will build housing units for 1,000 affected families, in addition to medical service centers, schools and a community activity center on a 20-acre plot of land, the spokesman said, adding that the cost for building the housing units will reach an estimated NT$200 million (US$6.33 million) .
The whole project is scheduled to be completed in six to eight months.