Thais extend assistance to Buddhists in Aceh province
by ANUCHA CHAROENPO, Bangkok Post, March 15, 2005
Survivors begin to smile again
Banda Aceh, Indonesia -- Thai monks and Thai people living in Indonesia are extending financial assistance to help restore the livelihood of Buddhist tsunami survivors in Indonesia's worst-hit province.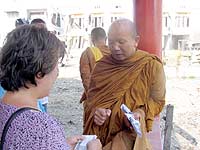 << Phra Khru Baideeka Wongsin, a Thai Buddhist envoy to Indonesia, gives money donated by Thai people and monks living in Indonesia to Tina, a tsunami survivor, in front of the Vihara Dewi Samudera temple in Banda Aceh, which was ravaged by the killer waves. ? ANUCHA CHAROENPO
Around a 1,000 of the 3,000 Buddhists were killed or went missing and presumed dead in this Muslim-dominated town of Banda Aceh after the giant waves swept the region on Dec 26 last year.
Four Buddhist temples in the town also suffered heavy damage.
Phrakru Baideeka Wongsin, deputy chief of Buddhist envoys to Indonesia, said Thai Buddhist monks and Thai people residing in Bandung, Jakarta, Medan, Jambee and Perkanbaru had so far donated around 40 million rupiah (180,000 baht) via the Thai Embassy in Jakarta and his temple in Bandung to the Buddhist tsunami victims in Aceh.
``We are very concerned about the survivors, and we want to support them both financially and morally so that they can return to normal life as quickly as possible,'' said Phrakru Baideeka Wongsin, who travelled to Banda Aceh last Friday to hand out some of the donated cash to the Buddhist victims. Earlier, 32 million rupiah (140,000 baht) was collected and handed along with basic essentials like food, clothing, water and medicine, to the victims.
The Buddhist envoy had closely inspected the damaged temples and damage to the Buddhist community in Banda Aceh during his stay. The majority of Buddhists here are Chinese-Indonesian. There are no Thai Buddhists here.
``I am very happy to see them smile again. We gave them what little we could offer. It was small compared to the losses they had suffered,'' he said.
Indonesian President Susilo Bambang Yudhoyono even thanked Thai monks and people for taking part in tsunami relief operations when the monk and members of the Indonesia-based Walubi Buddhist Organisation were invited to meet the president on March 1.
Tina, 47, a Chinese-Indonesian Buddhist, who lost her son and husband as well as her house, said she was greatly delighted at the mercy of Thai Buddhist monks and Thai people.
Mrs Tina broke down in tears telling that since the tragedy happened, no one had come forward, except the monk, with any money for her. The senior monk gave out the equivalent of 1,000 baht to her.
She blamed the central government for being slow in bringing help to the tsunami survivors in Aceh.
Tania Widjaya, 60, a committee chairman of Vihara Dewi Samudera temple, thanked Thai Buddhist monks and people for helping the Buddhist survivors.
``I will not forget this kind assistance,'' he said.
Banda Aceh's only Buddhist community had set up a relief and donation centre at Vihara Dharma Bhakit temple, which was slightly damaged.
Lo Fu Nyuen, 60, the chairman of the centre, said the centre was committed to helping all the tsunami victims, regardless of their nationalities and religion.
Lots of victims still come to seek help from the centre and donations would be welcome, he said.