Prayers for tsunami victims
by ACHADTAYA CHUENNIRAN, Bangkok Post, April 4, 2005
Temple seeks peace with spirits of bodies
Phangnga, Thailand -- A sense of sorrow and relief occupied the Wat Bang Muang temple in Phangnga as a merit-making ceremony took place there yesterday to seek peace with the spirits of dead victims once kept at the temple.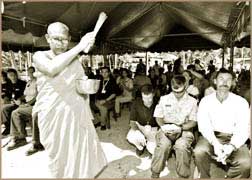 << Blessings for tsunami victims - Filepic
About 1,000 people gathered at the decorated temple which earlier functioned as a cemetery-cum-centre for identification in Takua Pa district in the wake of the Dec 26 tsunami. About 40 monks of the temple and from nearby ones in the same district gathered to pray for the victims.
Two rounds of prayers took place there in the morning and the evening in the presence of photographs of the dead victims.
Phrakhru Palad Chalermchol Chanthathammo, assistant abbot of the temple, said the ceremony took place 99 days after the tsunami and was aimed at sending the spirits of the dead victims to peace. Suan Noparit, a 71-year-old grandmother in Bang Muang village, said she provided monks with the favourite meals of her granddaughter who went missing in the tsunami. She was sad about the fate of all victims but was also relieved that yesterday's ceremony would have allowed the spirits to rest in peace.
Jitra Liangsakul, 55, said many relatives and friends of hers also went missing.
Thanit Tippitak, deputy director of the Ban Bang Muang School, said teachers brought the photographs of 51 dead students and a dead teacher to the ceremony to pray for them. The school management is also seeking foreign adoptive parents for the students who were orphaned by the big waves. Chabaprai Talaengpairoh, 12-year-old student of the school, said it was sad losing close friends.
She used to play with her friends in the compound of the same temple but had to look at their photographs there yesterday, she said.
Pol Col Khemmarin Hassiri, head of the Bang Maruan cemetery that is taking dead bodies in place of the temple and the Wat Yanyao temple in Takua Pa, said renovations at Bang Maruan cemetery would be finished next month, after which Wat Yanyao could be renovated and returned to local people.