Home > Vesak
Vatican sends annual greetings to Buddhist world
CWNews.com, May 16, 2005
Vatican -- The Vatican has made public an annual message to the world's Buddhists, timed for the Buddhist festival of Vesakh.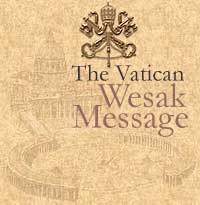 Signed by Archbishop Michael Fitzgerald, the president of the Pontifical Council for Inter-Religious Dialogue, the message lauds the cooperation between Christians and Buddhists in the relief efforts after the December 2004 tsunami that ravaged southern Asia.
Archbishop Fitzgerald notes that this year's celebration of the Buddhist feast "will find many families missing some of their members." He promises the continuing prayers of Christians for those victims of the natural disaster. As the same time, he observed that the outpouring of sympathy for the tsunami victims, which produced a massive relief effort, showed the benefits of inter-religious cooperation. Working side by side, the archbishop says, believers of different traditions pursued a "dialogue of life." Archbishop Oswald Thomas Colman Gomis of Colombo, Sri Lanka, recently alluded to that cooperation in humanitarian work as "exemplary."
The Vatican statement notes that this year marks the 40th anniversary of Nostra Aetate (doc) , the Vatican II document on relations between the Catholic Church and other faiths. That document, Archbishop Fitzgerald says, furnishes the basis on which "Buddhists and Catholics are able to meet together, in a spirit of openness, sincerity, and mutual respect."
Since 1967, the Pontifical Council for Inter-Religious Dialogue has sent an annual message to the world's Muslims, timed for the end of Ramadan. More recently the Council has also sent annual greetings to Buddhists and Hindus. Archbishop Fitzgerald has encouraged Church leaders in different parts of the world to use these Vatican statements as the basis for efforts to reach out to these religious traditions.
Vesakh is an annual feast, commemorating the birth, enlightenment, and death of Gautama Buddha. In the Theravada branch of Buddhism, which is predominant in the Asian countries most affected by the tidal wave, these events are combined in one celebration, which varies with the lunar calendar.