Home > Vesak
Malaysia: Practise tolerance, urges Minister in Wesak message
The Star, May 21, 2005
KUALA LUMPUR, Malaysia -- Malaysian Buddhists should practise tolerance and sincerity so that others will appreciate the teachings of Buddha.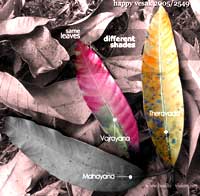 ?I would like to encourage all our brothers and sisters so that we persevere with the practice of disciplining our minds to focus on virtuous thoughts in order to bring forth good deeds,? said MCA president Datuk Seri Ong Ka Ting.
?It is through the sincerity of our actions that others will come to appreciate the spirit of tolerance taught by Lord Buddha.
?Let the Forces of Enlightenment come from the heart of Buddha, leading us to the path of divine understanding, thus strengthening us to serve humanity,? he said in his Wesak Day message.
Ong said this year?s celebration theme commemorates harmonious existence through doing good work for others.
He said this would be the day when Malaysians join hands with Buddhists throughout the world to celebrate the festival, when the Forces of Enlightenment were believed to be active.
Malaysia, he said, was blessed with abundant cultures, values and beliefs, and such richness in diversity should be strongly preserved and defended.