Home > Vesak
12,000 devotees expected for Wesak Day procession
The Star, May 21, 2005
PENANG, Malaysia -- Some 12,000 devotees are expected to take part in the Wesak Day procession here tomorrow.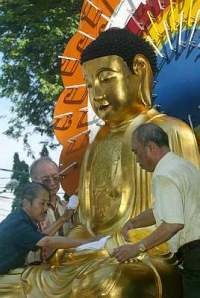 << DEVOTION: Dr Loh (left), Khoo (second left) and celebrations committee vice-chairman Tan Lye Hock cleaning the statue of Buddha at the Malaysian Buddhist Association?s premises in Penang Friday.
The devotees from 43 Buddhist temples and associations will start the procession at 6pm at the Malaysian Buddhist Association's premises at Jalan Burmah and wind 7km through several streets before ending at the same venue some three hours later.
The route will cover Jalan Pangkor, Jalan Kelawei, Lorong Burmah, Peel Avenue, Jalan Macalister, Jalan Anson and Lorong Madras.
Celebrations committee chairman Datuk Dr Loh Hock Hun said 21 decorated floats would join the procession.
The main float will be decorated with 300,000 stalks of flowers, centring on a three-metre tall sitting Buddha statue.
The theme for this year's celebration is ?Do Good for Harmonious Co-Existence?.
Speaking to reporters here, Dr Loh said they relied on the generosity of devotees to meet expenses, adding that the committee was spending RM120,000 for the celebrations this year compared to RM110,000 last year.
Earlier, 20 committee members carried the statue, weighing about 500kg, from the association hall to the main float.
Procession sub-committee chairman Khoo Kwan Hock said members of the O'Hara Floral Art Society would decorate the main float.
Police said the procession was expected to draw more than 50,000 people, including tourists.
?About 100 policemen will be stationed at strategic spots along the route to direct traffic,'' a police spokesman said.
Wesak Day is celebrated to commemorate the birth, enlightenment and passing away of Buddha 2,549 years ago.