Home > Vesak
Singapore: Vesak Day party for 1,000 people from 30 voluntary welfare groups
By Hasnita A. Majid, Channel NewsAsia, May 23, 2005
SINGAPORE -- Vesak Day brought cheers to some 1,000 people from 30 voluntary welfare groups. The Singapore Buddhist Welfare Services held the "Vesak Great Joy Party," with fun and laughter all round!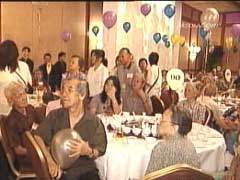 Those who attended included the handicapped, the hearing-impaired, the elderly and those on public assistance.
President S.R. Nathan and Mrs Nathan joined in the celebrations.
Also attending was patron of the group, Mrs Goh Chok Tong.
There was also a birthday celebration for 36 Voluntary Welfare groups that were set up in the month of May.
The party is an annual event that brings these organisations together.