Home > Vesak
Singaporean opens museum featuring Buddhist artefacts
By Valerie Tan, Channel NewsAsia, May 22, 2005
SINGAPORE -- This Vesak Day, Buddhists in Singapore will have a new place to reflect on the life and teachings of Buddha. A Singaporean lawyer has opened a museum filled with Buddhist artefacts from all over the world. Mr Woon Wee Teng, 48, has been a collector since he was nine.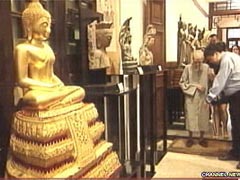 The museum, known as the Hall of Inner Learning, is located at Cantonment Road.
97-year-old Venerable Ho Yuen Hoe is the oldest living nun in Singapore.
More than 30 years ago, the selfless caregiver single-handedly started a home for the needy and sick.
Since then, she has never looked back as she devotes her life to caring for others.
But the "extraordinary nun" is humble about her acts of kindness.
Venerable Ho says life is not all about counting your good deeds.
"We can't be obsessed with our achievements or how much we've contributed to charity. To do that is like self-praise, which is against the Buddhist faith," she said.
Her advice to Buddhists this Vesak Day is to find inner peace and happiness - something which the Hall of Inner Learning hopes to do for all.
It also hopes to share the beauty of Buddhist art with people from all religions.
The museum contains statues of Buddha, the Goddess of Mercy and other pieces, all related to the religion.
Mr Woon said: "As you come here, you can easily feel the peace and tranquillity. And the pieces are specially selected to show the serenity, the compassion. These are the things we want so badly."
The entry fee for the museum is $5 for adults and $3 for kids and senior citizens.