Home > Vesak
Vietnam: Buddha's birthday celebrated nationwide
Vietnam News Agency, May 22, 2005
Hanoi, Vietnam -- A grand ceremony was held at the Vietnam Buddhist Institute in Hanoi's suburban district of Soc Son May 22 to mark the 2,549th birthday of Buddha, which falls on the 15th day of the fourth lunar month.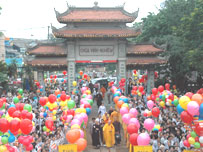 Most Venerable Thich Thanh Chinh, deputy general secretary of the Sangha Council of the Vietnam Buddhist Sangha (VBS) and chief of the Executive Council of the Hanoi VBS Chapter, read a message calling upon monks and nuns nationwide and abroad to keep up the Vietnamese Buddhists' 2,000 year-old tradition of patriotism and effectively carry out VBS's action programs.
During the ceremony, National Assembly Chairman Nguyen Van An affirmed that the Party and State had consistently implemented policies respecting and guaranteeing the right to belief and religious freedom, ensuring religious practices under the law and creating favourable conditions for religious followers and dignitaries to both practice their beliefs and fulfil their citizen obligations.
The NA chairman expressed his hope that VBS and monks and nuns at home and abroad would bring into full play the tradition of patriotism, and as an integral part of the nation, strive to contribute more to the country's renewal process and national construction.
On this occasion, Deputy Mayor of Hanoi Ngo Thi Thanh Hang met with dignitaries of the Hanoi VBS Chapter. She praised the chapter's contributions to the city's socioeconomic achievements, and said she hoped the city's Buddhists would effectively implement the Ordinance on Beliefs and Religion, thus contributing to building a civilized and prosperous capital.
Celebrations have taken place at 586 pagodas in Hanoi, and in all localities nationwide, including Ho Chi Minh City, Hue and Quang Tri.