Home > Vesak
Buddhist festival takes priority over tourist party
TNA, May 21, 2005
SURAT THANI, Thailand -- Revellers on Thailand?s southern Koh Pha-ngan will this month have to make do with a Full Moon party on a night when the moon has begun to wane, as the local authorities have decided that the most important day in the Buddhist calendar should take precedence.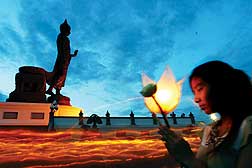 Today Mr. Pornlert Chokchai, Koh Pha-ngan district chief, said that he had ordered the party on Hat Rin beached to be postponed until 23 May, the day following the Full Moon itself, as the night of the 22 May would be given over to Buddhist celebrations to mark Visakha Bucha day.
The Full Moon parties, made infamous by foreign tourists in a search for drug-fuelled fun, have largely calmed down in recent years as they have come under increasing state control.
But the controversy over the parties has flared up again recently, with senators warning that the parties involve copious amounts of alcohol and indecent behaviour among foreign tourists.
Mr. Pornlert said that the sale of alcohol would be banned on 22 May, and that residents would be encouraged to attend celebrations at their local temple. He also noted that few tourists were likely to turn up for the party, due to unfavourable weather conditions.
According to Mr. Chanchoti Piriyasathit, head of the island?s tourism promotion association, visitor numbers for the Full Moon party are expected to be low in any case, as it is currently the low season for tourism. However, he predicted that the absence of the Full Moon party, which has given the island a bad reputation, might encourage more Thais to visit Koh Pha-ngan on 22 May.