Home > Vesak
Thailand: 1.2 million take part in Buddhist festivities
The Nation, May 23, 2005
Bangkok, Thailand -- About 1.2 million people took part in Buddhism week celebrations at Sanam Luang in Bangkok, the organiser of the event said yesterday.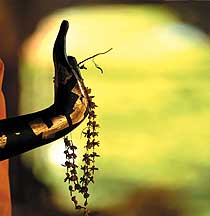 The week?s celebrations, which began on May 16, ended on Visakha Bucha or Buddha Day yesterday, with about 7,800 people per hour taking part in the candle procession around a Buddha relic, said General Thongchai Kuasakul, the organiser.
He said he had earlier expected only about half a million people to visit the celebration ground to pay their respects to the relic.
About 25 per cent of those paying their respects were young people, and Thongchai said he hoped the percentage of young visitors would increase to 50 per cent next year.
He said about 500 organisations had taken part in the Buddhism Week exhibition at Sanam Luang and a total of 194 exhibitions were held.
Meanwhile, in Udon Thani, Miss Norway, Helene Traasavik, who his half Thai, took part in the candle procession at the Thung Srimuang ground yesterday.
The Tourism Authority of Thailand and the provincial administration organised a reception for her at Udon Thani airport and many local people waited to greet her upon arrival.
She was later taken to participate in the lantern and candle procession.