Home > Vesak
Thailand: 100,000 people pay respect to Buddha relics
Bangkok Post, May 23, 2005
Bangkok, Thailand -- More than 100,000 people flocked to Sanam Luang last night to pay respect to Buddha relics in the traditional wientien (triple circumambulation) ceremony marking Visakha Bucha Day, or the Day of Vesak.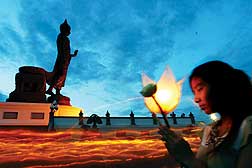 << A Buddhist woman joins thousands of people in the "wientien" ceremony marking Visakha Bucha Day at Buddhamonthon yesterday. ? Natthiti Ampriwan
The relics were taken from the Temple of the Emerald Buddha last Monday and enshrined at Sanam Luang for the weeklong ceremony. They were to be returned late last night.
The 7pm circumambulation ceremony at Sanam Luang was led by Prime Minister Thaksin Shinawatra and senior government officials.
Maj Boonchu Sriklueb, secretary-general of the Parian Dhamma Association of Thailand, said this year's event was a great success. It received high public and media attention, particularly to the ''One Person, One Pledge to Truthfulness'' campaign initiated by Mr Thaksin. At least 100,000 Buddhists had attended the ceremony at Samam Luang each day. Thousands of monks from 50 Bangkok districts and nearby provinces such as Suphan Buri, Nakhon Pathom and Pathum Thani also turned up to pray or preach every day.
All Buddhist temples in the three southernmost provinces of Yala, Pattani and Narathiwat were instructed to start the ceremony one hour earlier than usual for security reasons, the Southern Border Provinces Peace-building Command said.
Senior military officers and special task forces were ordered to take part in the ceremonies to celebrate Buddhism as well as to ensure security for those attending.
In Pattani, Buddhists, who make up 20% of the population, turned out in force to make merit at temples.