Home > Vesak
Activities to celebrate Buddha's birthday
VOVNews, May 27, 2010
Hanoi, Vietnam -- Buddhist monks, nuns, and followers nationwide have taken part in a variety of activities to celebrate Buddha's 2554th birthday (April 15 on the lunar calendar).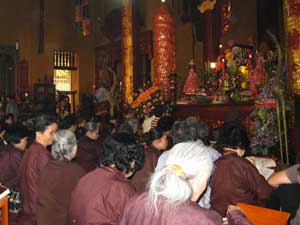 The Central Committee of the Vietnam Buddhist Sangha (VBS) on May 27 welcomed government officials who came to observe the anniversary at Quan Su Church.
Deputy Chief of the Government's Committee for Religious Affairs, Pham Huy Tho, offered his best wishes to the Buddhist monks and nuns, praising their contributions to the country's construction and growth, especially charitable activities launched by the VBS.
Mr. Tho expressed his hope that the VBS will continue contributing to national unity.
The Most Venerable Thich Thanh Nhieu, Vice General Secretary of the VBS, said the VBS will continue its activities: presenting gifts to poor people, encouraging Buddhist followers to abandon superstition, and to respect Party and State policies, and defending the freedom of belief and religion.
A Buddhist singing festival was scheduled to take place in Hanoi on the evening of May 27.
The VBS sent two delegations to Western European countries including Russia and the Ukraine to celebrate Buddha's birthday with people overseas.
A grand ceremony will be held at the Hanoi Cultural Friendship Palace on May 28.