Home > Vesak
Russian Buddhists celebrate birth of Gautama Buddha
by Milena Faustova, Moscow Time, May 27, 2010
Buryatia, Russia -- May 27 is a sacred Buddhist holiday when Buddhists across the world are celebrating the birth of their spiritual teacher Prince Gautama Buddha.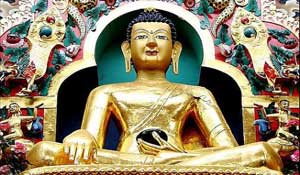 The legend has that the founder of Buddhism not only was born but also attained enlightenment and passed away on the same day. There is no fixed date for this holiday in the Gregorian calendar.
It is celebrated on the 15th day of the fourth lunar month, approximately the end of May-the beginning of June. Solemn ceremonies will take place in the Russian republics of Kalmykia, Buryatia and Tyva where Buddhism is the dominant religion.
Buddha Shakyamuni also known as Siddhattha or Gautama, was born in 623 B.C. His father was the ruler of a small kingdom and leader of the Shakya clan, so the newly-born prince was destined to a luxurious life and had three palaces built for him.
At the age of 29, Prince Gautama left his parental home, his wife and child, and began leading the life of an ascetic, begging for alms in the streets and traveling in search of the Truth. At age of 35, after 49 days of meditation under a tree on the bank of the Ganga River, he attained enlightenment and from then on was known as Buddha, or the Awakened One.
On the day of Buddha's birth, an official holiday in Kalmykia, hundreds of believers flock to Buddhist temples decorated with flowers and paper lanterns. Monks are reading prayers and narrate episodes from the lives of Buddha and his disciples.
In Buryatia, people will be allowed into the Ivolginsky datsan to which the lifelike body of Hambo Lama Dashi Dorzho Itigelov was transferred after being exhumed in 2002, 75 years after his death. The lama sits in lotus posture in a glass case and believers are only allowed to see him twice a year.