Home > Vesak
Buddhist students walk hundreds of miles to celebrate Vesak
by ANANG ZAKARIA , Tempointeraktif.com, 26 May, 2010
Jakarta, Indonesia -- Five Indonesian students from an institute of buddhist studies in Jakarta are one day apart from Indonesia's biggest buddhist temple, The Borobudur in Magelang, Central Java, in their on-foot travel enacting the journey of the Buddha, to commemorate the Vesak Day.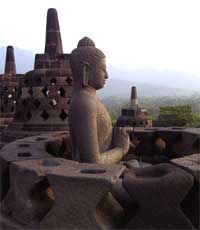 Students of Nalanda Insitute of Buddhist Studies in East Jakarta aged between 19 and 25, started their long march from Jakarta on May 8th, and has arrived at Mendut Temple another smaller buddhist temple in Magelang today (26/5), three kilometers east of the Borobudur, one day before the Vesak Day celebration which is to be centered at Borobudur.
"Almost 20 days of walking" Susanto a 21 year old student in the group.
With about Rp2 million they covered about 550 kilometers in 21 days, following first the northern coast route in completing the West Java part of the walk before shifting to the southern coast when entering Central Java passing Losari, Cilacap, Kebumen, and Purworejo.
They relied on police stations, army posts, or even pedestal for lodging, using money strictly for meals and other needs only.
They plan to make the final short walk to Borobudur on May 27, after spending a night at Mendut.