Home > Vesak
Buddha statues, temples spruced up for Wesak
By ANN TAN, The Star, May 26, 2010
Penang, Malaysia -- BUDDHIST temples and associations in Penang are abuzz with activity as devotees gear up for the Wesak Day celebrations on Friday.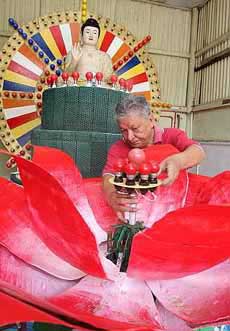 << For the parade: Wong fixing bulbs on the lotus flower float at the Penang Buddhist Association.

Many of them are holding special prayers and religious activities to commemorate the event which marks the birth, enlightenment and passing away (Parinirvana) of Buddha.

At the Wat Chaiyamangalaram (Reclining Buddha Temple) on Burma Lane, temple helpers were seen giving the 32.9m-long and 9.75m-high sleeping Buddha statue the final cleanup before spraying perfume on it.

Temple supervisor Wanpen Loo, 58, said some 50 volunteers started cleaning the statue and the 30,000 Buddha images in the temple two weeks ago.

She said they needed to use long mops to reach the top part of the giant statue because it would be disrespectful to climb onto it.

"The number of helpers has been increasing every year as they believe that they can be blessed with good luck after cleaning the statue," she added.

Loo said the temple would also celebrate the Four Faced Buddha's birthday today with devotees, whose prayers have been answered, performing traditional Thai dances as a sign of gratitude to the Buddha.

She added that devotees who could not attend the celebrations on Friday had written their names on the lotus candles which they had bought and placed in the temple.

Temple helpers will help them to light up the candles on the actual day.

Across the road, preparations are also in full swing at the Dhammikarama Burmese Buddhist Temple.

Temple trustee Yeap Theam Kwee said there would be chanting for blessings on the eve of Wesak Day and vegetarian buffet meals for devotees on Wesak Day.

"This year, our float will be decorated based mostly on Burmese designs which were undertaken by Burmese artists," he said.

Over at the Penang Buddhist Association on Anson Road, its float committee member Wong Mun Onn, 60, was seen busily putting on the decorative bulbs on the lotus flower float.

"We started working on the float two months ago. The flowers will be put up later so that they will not dry up by then," he said.

He said devotees could also take part in the bathing of the Buddha statue on Wesak eve and Wesak Day.

Meanwhile, workers have started hanging colourful Wesak Day plastic flags around the Malaysian Buddhist Association on Burma Road.

Jayaletrik Power Engineering Sdn Bhd project supervisor Khaw Say Teik, who was spotted putting up decorative bulbs on the main float with his employees, said more than 40 boxes of floral foam were needed to decorate the float.

"This year, they are forming more Buddha symbols with the foams and about 70,000 flowers are needed to decorate them," he said.