Home > Vesak
20 devotees move big Buddha statue onto Wesak float
By LIM HUI LING, The Star, May 27, 2010
Penang, Malaysia -- IT took 20 people to move the one-tonne Buddha statue from the shrine located within the Malaysian Buddhist Association (MBA) building on Jalan Burmah to the main float some 40m away.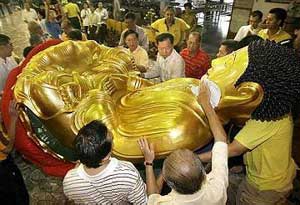 << Arduous task: Devotees lifting up the Buddha statue from its shrine in the MBA building on Jalan Burmah yesterday in preparation for the Wesak Day procession.

The group comprising committee members of the Penang Wesak Celebrations Committee and volunteers lifted the statue onto a trolley before pushing it to the building's entrance where the float was waiting yesterday.

However, there were no complaints as the group believed that they would be blessed with good karma.

A check showed that work to decorate the main float with lights began at 10am and it was completed about nine hours later.

Float Procession Committee chairman Lim Soo Peng said: "About 70,000 flowers are needed to decorate the float, the gong float and the Dharmachakra float."

He said devotees were welcome to donate flowers.

"We hope they will bring the flowers by 5pm tomorrow (today)," he said.

He added a total of 18 floats from 41 Buddhist associations would take part in the procession tomorrow.

Penang Wesak Celebrations Committee chairman Datuk Dr Loh Hock Hun said committee members and volunteers were working round-the-clock for two days to complete the decorations.

The 6km procession will start at 6pm from MBA and will pass Pangkor Road, Kelawei Road, Burmah Lane, Burmah Road, Perak Road, Peel Avenue, Macalister Road, Anson Road and Madras Lane.