Home > Vesak
Buddhist organisation invites the public to join devotees for Wesak activities
The Star, May 26, 2010
Seri Kembangan, Malaysia -- THE Nalanda Buddhist Society, a leading Malaysian Buddhist organisation, will be celebrating Wesak this year with various programmes and activities spanning four days tomorrow until May 30.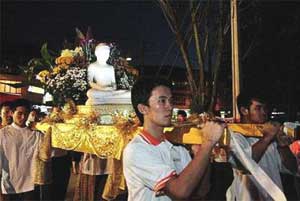 << Easy does it: Devotees carrying the sedan with the statue of Buddha during the procession.

The celebrations will be held at the newly-renovated Nalanda Centre located in Taman Sri Serdang, Seri Kembangan. The Nalanda Centre has been an attraction since its opening in December last year with its blend of Srivijayan and Malayan heritage interior design and its Zen-like ambience.

Wesak Day commemorates the birth, enlightenment and passing away of Buddha and is the most sacred occasion for Buddhists throughout the world.

Wesak Day has been designated a public holiday in Malaysia since the 1960s and devotees usually throng temples and viharas on the day to honour Buddha by performing meritorious deeds like alms-giving, blood donation, chanting, meditation and religious rites.

The Wesak observance at Nalanda will begin tonight with puja, talks, meditation and a blessing by monks. There will also be opportunities for devotees to offer alms-food to the Sangha members (monks) daily at 7am and 11am.

On Wesak Day, a full-day programme has been arranged starting with the 7am alms-round, Buddha-puja at 9am, Dharma talks, and blessings. Throughout the day, meditation sessions will also be held. A blood donation campaign is also being organised at the Nalanda Centre from 10am to 4pm.

The highlight of the Wesak observance at Nalanda is the annual evening Heritage Procession from 7.30pm to 9pm. This year's procession will be a lot grander with the official participation of five Buddhist Societies from the Buddhist Community Alliance (BCA) — the Buddhist Missionary Society (Kajang), Kinrara Metta Buddhist Society (Puchong), Nalanda Buddhist Society (Seri Kembangan), Sungai Long Buddhist Society (Sungai Long) and the Seremban Sudhamma Buddhist Society (Seremban).

More than 2,000 devotees are expected to take part in this traditional procession bearing special paper lanterns.

The Heritage Procession is unique as there are no motorised vehicles in the parade. The main Buddha image will be borne by a dozen men in traditional costumes on a wooden sedan.

There will also be a specially-crafted wooden 'boat' ferrying the Bodhi Tree topped by a three-tiered golden parasol.

The other heritage paraphernalia that will be paraded include colourfully lighted parasols, Deva (heavenly beings) images and two lively Naga (dragon) dance troupes with accompanying musical ensemble.

Devotees and members of the public are welcome and encouraged to join this rare heritage procession. Those interested in participating are encouraged to wear white tops to symbolise purity of their intentions and a sarong to denote their Asian heritage.

Another highlight of Nalanda's Wesak celebration is the Buddha Jayanti Exhibition. This year's theme is Buddhism in Asia and the exhibits were prepared collaboratively by teachers and students from the Nalanda Dharma School.

The exhibition will be on display from May 28 to 30, from 10am to 6pm, at Level 4, Nalanda Centre. Admission is free and all are welcome.

For more information, contact Sister Nandini Tan at Nalanda's office at 03-8938 1500 or 8939 1501 or e-mail info@nalanda.org.my. For a detailed programme, visit www.nalanda.org.my/wesak.