Home > Vesak
Temples refrain from releasing animals on Vesak Day
By Ting Kheng Siong, Channel News Asia, May 28, 2010
SINGAPORE -- Vesak Day, which falls on May 28 this year, celebrates the birth and enlightenment of Buddha.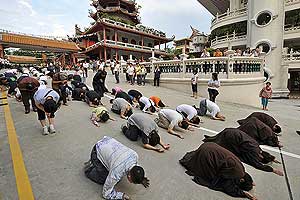 << Thousand of devotees flooded the Kong Meng San Phor Kark See Monastery performing the ancient Buddhist ritual - the 'three-steps, one-bow' march - on the eve of Vesak Day. -- DESMOND WEE

Buddhists in Singapore have long observed the practice of releasing animals into the wild, although this act is against the law.

This year, some temples have come up with activities that aim to take the place of this practice.

For the Kong Meng San Phor Kark See Monastery, half of its events lined up on Friday were targeted at families - a vast difference from its previous tradition of freeing animals.

"Some release their own pets, but the animals can't live in such wild environments. This, in reality, hurts the animal and that's definitely not what we advocate," said Sik Chuan Hou, Chief Officer-in-Charge, Kong Meng San Phor Kark See Monastery.

In fact, releasing animals, or better known in Mandarin as 'fang sheng', is highly discouraged by environmental authorities in Singapore.

As a result, the Singapore Buddhist Federation said that more temples are shifting towards family and youth-oriented activities.

Over at Thekchen Choling, the temple is bustling with education and outreach programmes, such as a bazaar.

"The purpose is for them to understand how they can bring Buddha Dharma into their daily life, even as a child, so they can start to learn to become more responsible for their own actions," said Lama Thubten Namdrol Dorje, spiritual director at Thekchen Choling.

And such practices could be the new way ahead for temples to engage younger followers, and at the same time, preserve the traditional values of the faith.