Home > Vesak
Buddhists mark Vesak Day
By Ang Yiying, The Straits Times, May 29, 2010
Thousands of devotees visit temples, make offerings and take part in sacred rituals
Singapore -- BUDDHISTS celebrated Vesak Day yesterday with visits to temples, offerings of fresh fruits and flowers, and rituals such as Buddha-bathing, where water is poured onto a statue of the Buddha.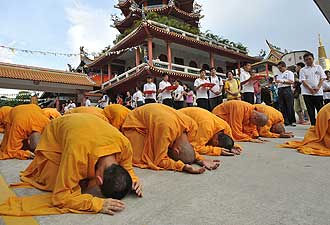 << Monks and devotees in a candle-lit procession around the grounds of the Sri Lanakaramaya Temple (above), in St Michael's Road, last night. The procession included the carrying of Buddha relics and more than 5,000 attended yesterday's celebrations. -- ST PHOTOS: SAMUEL HE, LAU FOOK KONG
One of the most important days in the Buddhist calendar, Vesak Day celebrates the birth, enlightenment and final nirvana of the Buddha, who was born Prince Siddhartha Gautama.
The last Singapore Census of Population in 2000 showed that there were just over a million Buddhists in Singapore.
At the Singapore Buddhist Welfare Services headquarters in Punggol Road, more than 10,000 had visited by the end of the day.
By 9.30am, when chanting and prayers started, its auditorium was filled with at least 3,000 devotees. Some were dressed in black robes or hai qing, showing that they had taken the Buddhist vow to follow five precepts: abstaining from killing, stealing, sexual misconduct, lying and intoxication.
Other visitors made their way into the auditorium through a side-door to scoop water onto a statue of the baby Prince Siddhartha - related to flowers blooming and rain falling during his birth, and also seen as an act of purification and a reminder to people to keep their soul, heart and mind pure.