Home > Vesak
Homage to Lord Buddha
By TAN SIN CHOW, IVAN LOH and LIM HUI LING, Photos by WAN MOHIZAN WAN HUSSEIN and SAIFUL BAHRI, The Star, May 29, 2010
Penang, Malaysia -- BEING confined to a wheelchair did not stop retiree Lim Goay Sim, 77, from offering prayers at the Mahindrama Buddhist Temple on Kampar Road, Penang.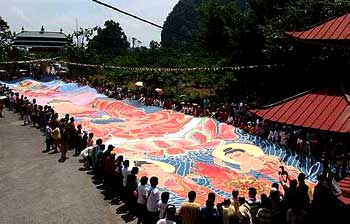 << Drawing energy: The giant painting of Buddha is spread out by devotees for a sunning at the Enlightened Heart Buddhist Centre in Tambun.

Several temple volunteers had to help her into the main hall before she clasped her hands to pay homage to Buddha.

Her husband Ong Cheng San, 75, had earlier wheeled her into the temple's vicinity.

"Despite having walking difficulties, I feel it is a must for me to come here for prayers.

"I have been here every year for more than 30 years and I will continue coming as long my body permits," said Lim, adding that her movement was restricted due to a liver problem.

Besides giving donations and flowers as offerings to the temple, Lim also lit a lotus candle outside the main shrine for good health.

She was among thousands of devotees who visited the various Buddhist temples on the island to celebrate Wesak — the triple blessed day commemorating the birth, enlightenment and passing away of Lord Buddha 2,554 years ago.

Besides lighting lotus-shaped candles and offering incense and flowers, devotees also waited patiently for their turn to bathe little statues of Buddha with scented floral water at various temples. It signifies the washing away of one's impurities and defilements.

Despite the sweltering heat, the crowd was exceptionally large due to the longer weekend.

Makeshift stalls set up near temples were aplenty as the traders enjoyed good patronage selling vegetarian food and souvenirs.

Meanwhile in IPOH, hundreds of devotees congregated at the Enlightened Heart Buddhist Centre in Tambun, Ipoh, to unfurl the thangka, a giant canvas painting of Sakyamuni Buddha on Wesak Day.

The painting, measuring 60m by 12m, was carried out into the temple compound by devotees for a sunning at noon. The traditional practice of spreading out the huge painting was said to "draw power" from the sun.

Devotees and their children then took turns to run under the painting as a sign of receiving blessings from Lord Buddha.

Earlier, devotees carried statues of deities and performed the circumambulation ceremony to seek blessings.

They also participated in a procession, led by temple officials wearing colourful masks and costumes, to exorcise evil and get rid of bad karma.

Elsewhere, Perak executive council member Datuk Dr Mah Hang Soon presented RM50,000 on behalf of the state government to the Perak branch of the Malaysian Buddhist Association in Pasir Puteh during the Wesak Day celebration.

He said the allocation was for the association to build a place of worship.

Dr Mah also urged all Malaysians, regardless of religion, to have a sense of compassion to maintain peace and harmony.

Branch chairman Tai Foo Lowai said the theme for this year's Wesak Day celebration was 'Promoting Harmony Through Right Understanding'.

He said as Buddhists, devotees must acknowledge all religions and should always be open-minded.

"We should not have any discrimination towards other religions. We should be united, promote social welfare and establish a harmonious society," he added.