Home > Vesak
Stop selling Vesak
By Quintus Perera, Asian Tribune, May 28, 2010
Celebrations should be made as a vehicle to promote peace
Colombo, Sri Lanka -- If you are travelling in an around Colombo there are some posters that read as 'Panadura Vesak Pahan Kooduwa which was at Seeduwa is now at Bellanwila and now displaying huge and technologically complex Vesak Lanterns has become big business.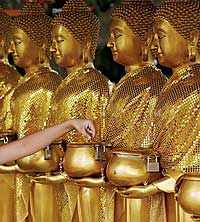 << A girl putting money into "alms bowl" donation boxes. Is Vesak being "over commercialised"?

Meanwhile the spirit of Vesak that it belongs to Children is apparently fast eclipsing, specially among the urban population in the country. The older people would reminisce` the spirit in which they celebrated Vesak. As small children in the village, they with their friends would run to the bunds of water ways where there are bamboo trees are freely grown, they would cut a few branches and run back home with them.

Together with groups of these children cut and chop these branches according to various sizes and tie them and make artful lanterns, with pasted vivid coloured tissue papers, or at times white ones and it would the pride of thesesmall ones to hand them on trees with the help of ropes and in the night they lower these lanterns and then light them with candles and hang them back. It would be their greatest sorrow when sometimes these meticulously made lanterns wash away by the overnight rain, while the little ones were fast asleep.

Or another group of small children would get together and construct to depict a Jathaka Kathha which would be display on the wayside for the people who walk through to witness these Vesak decorations and these would reflect the best meaning of Vesak and the glory of Lord Buddha.

In the same manner even Christmas belongs to children and the glory of infant Jesus would always reflect through these small children as they are the happiest during the festive season.

It is a great pity that the entire Christmas has become commercialized. Vesak up to a certain period has not been so. But today it too is on the verge of being commercialized.

Ven Mahagalkadawala Punyasara Maha Nayake Thero, Viharadhipath, Rajachethiyaramaya, Gopallawa, Gokarella and President, Sathkorale Sadaham Centre is of the view of that there are definite signs of Vesak getting commercialized.

gauthama_buddha_-2.jpg
Thathagatha Lord Buddha

Ven Punyasara Thero said that there is no way that collect money in the name of Vesak. He said the practice during Vesak has been by Philanthropists to put up pandols and even they with their own money give alms (dana) through Damsels. He said that it is a great pity that now it is becoming a practice to collect funds from people to put up pandols and damsels and said that it now has taken the proportion ofbig business or racket.

He said even children in groups in some places collect money to offer cool drink damsels etc. Ven Punyasara Thero said that measures should be taken to stop this practice forthwith as thesechildren so tend to violate the precepts of Buddhism.

He said that some cunning people are now in the practice of putting up various types of Vesak Lanterns, depicting even Jathaka Kathha but the unfortunate situation is that they by displaying them charge money from the people who view them. It is true that those who go out to view Vesakdecorations are really attracted by these various creations. But doing a business and making a profit does not go with the Buddhist precepts. He said that if anyone wants to display his prowess and dexterity it must have to be done free of charge.

Ven Punyasara Thero is also a very active community oriented workers, specially working hard through to human rights and in this regard he has visited several countries to participate in workshops and seminars in this regard.

He is also an ardent freedom fighter and along with a large number of other Buddhist Monks involved in bringing peace to North and East , He has been regarded as a peace worker by both sides of the divide and as such he has travelled many a times to the rebel areas in the North and East in an attempt to bring peace to this battered nation. They have failed to mend the ruptures made by the conflict because the issue is enveloped by a stronger power. That is the political power that sits on everything.

He said that many are confused of what Buddhism aspires on war and peace and the Vesak season is seen ideal for the people to dwell upon the Buddhist concept is on this matter.

Dwelling upon the war, peace and how they could be viewed through Buddhist philosophy and its significance on Vesak Ven Punnyasara Thero said that in Buddhism the highest perception is the principles and precepts involving Amisa pooja and Prathipaththi pooja. Things like alms giving, attaining Sil, and Bhavana are the triple religious observances (Punya kriya). Things like pandols, dancing, singing and musical shows on Vesak could be categorized as Amisa pooja, which are not important or essential in the observance of Vesak.

But when a religion goes to the people, they sometimes go beyond the strict principles of that religion and introduce traditions according to the social and secular needs, which has to be tolerated to some extent. In Buddhism these worldly things are called "Visuka Dharshana".

When Prince Sidhartha was born in the 6th Century BC, he was born to a world that was full of inequality, injustice and the people were divided by race, religion and cast. But at the time of the birth of the Thathagatha wonders have occurred. With His birth there was peace, there was tranquility and there was harmony in the world. In the animal world archenemies like cobra and mongoos, crow and the owl became friends, providing harmony in the animal world too.

Ven Punnyasara Thero said that these examples portray a clear message of peace from the day Gowthama Buddha was born. When Prince Sidhartha attained Buddhahood He went to the battlefield with the message of peace. There was the conflict of Saakkya and Koliya to the point of war each other sharpening their weapons to attack on a dispute to share the water of the River Rohini. Lord Buddha saw how foolish these men were to fight each other and also the utter uselessness of killing each other. Lord Buddha intervened and he averted a major battle and also convinced through his preaching the uselessness of war and killing each other.

Ven Punyasara Thero has been deeply disenchanted as some religious fanatics have been preaching war-mongering which according to this venerable Thero is strongly detrimental to the much valued Buddhist precepts.

In following the footsteps of such a great peace makers, Ven Punyasara said that it is high time that Sri Lanka starts making peace among all people and Vesak could be utilized to mend the animosity and misunderstandings created by the prolonged ethnic strife between Sinhalese and Tamils. It is the best time to heal the mistrust among the people and said that it would also certainly help the country in the development process.

He said that Lord Buddha came to Sri Lanka not to wage war but to settle wars. Ven Punyasara Thero said that Lord Buddha came to Nagadeepa to settle a dispute between two brothers – Choolodhara and Mahoodara -for a chair imbibed with gems and jewells. Lord Buddha also settled a dispute among his relatives that had cropped up for sharing water.

He said Sri Lankans as followers of Lord Buddha, should have to be ashamed of crying for war, but ideally should have been a nation of peace makers as Lord Buddha has become an emissary of peace to the whole world and the followers of such a great emissary must have to cry for peace and peace alone, under whatever the circumstances.