Home Europe


Keanu Reeves: Women like to be beaten
Daily Record, March 9, 2006
London, UK -- ACTOR Keanu Reeves has appalled fans by claiming some women enjoy being battered by men. The unmarried Matrix and Speed star made his astonishing claims as he discussed a movie scene in which he attacked co-star Hilary Swank.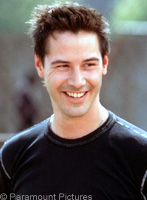 Reeves, 42, whose Buddhist religion is founded on nonviolence, played a wife-beater in the 2000 film Gift opposite Swank, the Oscar-winning star of Million Dollar Baby.

He said: "By the way, I also learned a bit of ... well, some of the ladies don't mind it. A part of me was afraid of my violent side.

"Once Hilary and I were improvising and I kept saying, 'You're lying. You're lying'.

"The director Sam Raimi said, 'Every time you say, "You're lying," instead of saying it, just hit her.' It was very scary."

Women's groups in Britain reacted furiously yesterday to his comments, made to Playboy magazine.

Sandra Horley, of domestic violence charity Refuge, said: "It is irresponsible for Keanu Reeves, a worldwide celebrity, to perpetuate myths about domestic violence.

"Domestic violence kills more 19 to 44-year-old women than any other cause, including cancer and traffic accidents. With this many women being killed, it is absurd to think that all these women like violence."

The row echoed the uproar which followed 007 star Sean Connery's interview with the same magazine in 1965.

Connery, who was playing James Bond at the time, said some women needed to be slapped if they are "a bitch, hysterical or bloody-minded".





About Us
Get Breaking Buddhist News in your Email. Free subscription.

Please help keep the Buddhist Channel going

Point your feed reader to this location
Wikipedia: Buddhism by Country
Sangha Directory
Ecards
Wallpapers
E-Library
Archives
Sitemap
Submit an Article
Write to the Editor
Affiliation Program