Home Europe


Buddhist retreat for footballer Stan Collymore
The Daily Record, Oct 26 2004
Birmingham, UK -- FORMER football star Stan Collymore has turned to Buddhism to help his battle against depression.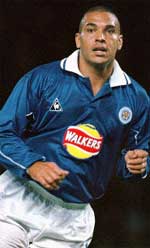 The ex-England striker, who appeared in Channel Five's The Farm, spent two days at a retreat chanting and meditating.
The troubled star found the relaxation techniques he learned so useful, he's considering using them in everyday life.
During his stay at the temple in Birmingham, the former Liverpool and Aston Villa player followed a strict regime, rising at 5am for 12-hour sessions.
The temple's abbot, Ajan Mahalaow, said: 'He told me he had a personal interest in meditation and wanted to know how to relax himself properly.
'Buddhism will help him overcome some of his problems and help him cure his mind.'
Earlier this year, Collymore's secret habit of 'dogging and piking' - where people trawl car parks to watch strangers have sex and take part - was exposed.
Soon after, he checked into a Priory Clinic claiming to be suffering from depression.
He was first shamed in 1998 when he attacked then girlfriend, TV star Ulrika Jonsson, in a Paris bar.
Stan, 33, said of his two-day retreat: 'It was very satisfactory. The people were fantastic.
'I won't be hurrying back for hours of meditation, but I will definitely start in five-minute chunks and see how I go.'