Home Asia Pacific South Asia Pakistan


Fasting Buddha to be exhibited in Colombo
Daily Times, May 16, 2006
LAHORE, Pakistan -- The Pakistan government formally handed over on Monday a sculpture of the Fasting Buddha to the Sri Lankan government to be placed in one of the main temples in Colombo for public homage during Vesak, the holiest month of the Buddist calendar.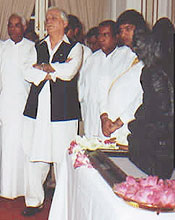 The sculpture, which belongs to the Lahore Museum, has been sent at a request by Sri Lankan President Mahinda Rajapakse during his recent visit to Pakistan. Vesak this year marks the 2,550th anniversary of the birth of Gautama Buddha.
The statue was handed over to the Kelaniya Raja Chief Incumbent Maha Vihariya by the Pakistani high commissioner to Sri Lanka at a special ceremony on Monday.
The Buddha statue will be exhibited for two days on the Buddhist festival of Vesak Poya Day at the Kelaniya Raja Maha Viharaya for Buddhists to pay homage.