Home Asia Pacific South Asia Pakistan


Buddha statues seized
By S. Raza Hassan, Dawn, Dec 20, 2008
KARACHI, Pakistan -- Two antique Buddha statues were seized by Pakistan Customs at a mail office on Thursday.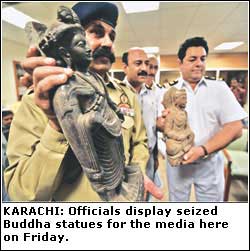 The Customs staff, acting on a tip-off that some elements were using the mail to smuggle Buddha statues to China, started monitoring the movement of parcels sent to the office handling international mail.
On Thursday, the surveillance team intercepted a parcel booked by Aijaz Ahmed (Islamabad) and addressed to Zou Jialhui (Beijing). Upon examination, the parcel was found to contain the two antique Buddha statues.
Officials said the relics probably dated to the Gandhara period, but added that an authentication report from the National Museum is awaited.