Home Asia Pacific South Asia Pakistan


Korean Chief monk calls on Pakistan President
Daily Times, Dec 18, 2008
ISLAMABAD, Pakistan -- Chief Buddhist Monk Jeon Woom Deok called on President Asif Ali Zardari on Thursday and exchanged views on various issues of mutual interest.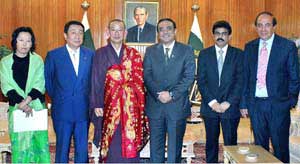 The president said that Pakistan always welcomed tourists and foreign visitors to their sacred religious sites in Pakistan, adding that northern Pakistan was home to Buddhist religious sites and cultural relics.
Deok talked about a proposed project regarding setting up a Buddhist Complex in Taxila near Hasanabdal and its affiliate, the Gandhara School of Arts.
He also proposed to organise a 'Peace Caravan' covering Pakistan, China, Japan and Korea to spread the message of peace, goodwill and tolerance.
The president welcomed the idea, saying he would request the government to set up a committee consisting of the chief monk's representatives and officials of relevant ministries to look into the proposals aimed at promoting goodwill and inter-faith harmony.
Zardari said the government was keen to preserve the ancient cultural heritage of Gandhara not only as a means to promote inter-faith harmony but also to promote tourism in the country. The chief monk appreciated the measures taken by the government of Pakistan.