Home Asia Pacific South Asia Pakistan


Thai Buddhists delegation visits Swat
SAMAA, 26 Mar 2010
SWAT, Pakistan -- A 9-member delegation of Buddhist preachers from Thailand have visited historical Buddhists sites in Swat, first time after the restoration of peace in the war affected area.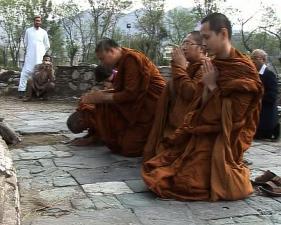 The delegation is headed by Assistant Secretary of the Supreme Patriarch Secretariat Dr Anil Sakya and General Secretary of the World Fellowship of Buddhists Phallop Thaiarry.
The members of the team visited 2,500 years old historical sites in Swat and performed religious duties.
Talking to media, Dr Anil and Phallop Thaiarry expressed their pleasure over the secured existence of 2,500 years old Buddhist sites.
"We want to give this message to the world that people of Swat are friendly and peaceful," they said.