Home Asia Pacific South Asia Nepal


Nepal begins restoration of Buddha's birthplace
AFP, Apr 5, 2011
KATHMANDU, Nepal -- An international conservation team has begun work on restoring three endangered monuments at Buddha's supposed birthplace in southern Nepal, officials said on Tuesday.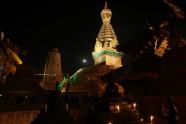 The team, led by Italian conservation expert Costantino Meucci, will restore the marker stone, nativity sculpture and Ashoka pillar in Lumbini, 250 kilometres (150 miles) southwest of Nepal's capital Kathmandu.
Lumbini, declared a world heritage site by UNESCO in 1997, is visited by Buddhist pilgrims from around the world, and the month-long restoration campaign is funded by the Japanese government.
The marker stone is believed to be the exact site of Buddha's birth while the nativity sculpture is a carving that shows Buddha's mother holding a tree branch for support during his birth.
The Ashoka pillar was built by an Indian king in the third century BC.
"We will clean the nativity sculpture. Its outer layer is peeling. The Ashoka pillar is deteriorating due to human activities and biological effects," conservation expert Meucci told reporters.
"Offerings such as sugar and oil by devotees have probably caused changes in the colour of the marker stone," Meucci added.
Gautama Siddhartha, who later became known as Buddha or the Enlightened One, is believed to have been born around 500 BC.