Home Asia Pacific South Asia Nepal


Buddhist body slams attack on monasteries
The Himalayan Times, Oct 15, 2012
KATHMANDU, Nepal -- The Buddhism Protection Concerned Coordination on Monday has expressed serious concern over the September 30 arson attack on Buddhist temples and monasteries around the Cox's Bazaar area in Dhaka, the capital of Bangladesh and over the destruction of hundreds of Buddha's idols there in the course of such attacks.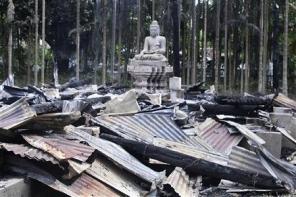 << A temple burnt by Muslims is seen in Cox's Bazar September 30, 2012
In a statement, the religious body condemned the attacks by hooligans saying that to carry out such acts leading to the destruction of Buddhist temples and monasteries as well as Hindu temples and shrines was against the human civilisation.
President of Buddhism Protection Concerned Coordination, Lakpa Sherpa, stated that since such kinds of anarchic activities disturb religious tolerance, the Bangladesh government should identify the community perpetrating the attacks and prevent such activities.
He also demanded stern action against the perpetrators.
Fourteen important Buddhist temples and three Hindu temples were destroyed and 30 families were attacked by an unruly mob in the incident.