Home Asia Pacific South Asia Nepal


Famous Nepal Buddhist shrine damaged in quake
Phayul, April 25, 2015
Dharamshala, India -- A 7.9 magnitude earthquake with epicenter at Gorkha district struck the Nepal killing over 700 people and damaging many historical monuments and buildings in the capital Kathmandu and other areas, according to the Kanitpur news.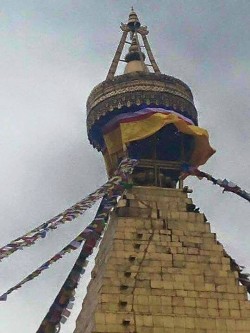 In Kathmandu, home to thousands of Tibetans, people are in shock and out on the streets, many engaging themselves in rescue works.
Several aftershocks were also experienced. Tremors were also felt in the Indian capital, West Bengal, Sikkim and Bihar.
The popular Boudhanath Stupa has also developed major cracks, said witnesses. Photos of the destroyed structure is being circulated on the internet and messages of support and condolence pour in from all over the world. Many Tibetans have expressed their solidarity with the people of Nepal on their facebook pages.
A statement issued by Nepal's Home Ministry states that the quake has killed 500 persons in the Capital alone and injured hundreds of others, reported Kantipur.
With little known about the extent of the damage around the earthquake's epicentre, there are fears the death toll could rise.
In the wake of the disaster, government has declared national crisis and established a fund of Rs. 500 million for the reconstruction of the damaged infrastructures.