Home Asia Pacific South Asia Nepal


Lumbini Trust told not to charge entrance fee
The Rising Nepal, July 26, 2005
BUTWAL, Nepal -- The supreme court has issued an interim order to the Lumbini Development Trust not to charge the entrance fee at the entrance of the Mayadevi Temple as well as the fee that is charged for offering worship at the temple.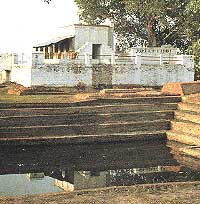 << Temple in Lumbini
The Court issued the interim order after a writ petition was filed in the court by Vijay Kumar Baniya of Bhagawanpur VDC of the Rupandehi district demanding the abolition of entrance fees. The petition says that entrance fee has greatly contributed to the erosion of the faith of pilgrims in Lord Buddha as well as the sacred birthplace of Lord Buddha.
The devotees should be allowed to enter into the sacred placed without entrance fee to let them offer their worship which they have been doing for generations.
Meanwhile, the Supreme Court yesterday also issued the show-cause notice to the Lumbini Development Trust.
The bench of the Justice of the Supreme Court, Balram K.C. has issued an interim order asking the Trust not to charge entrance fee and let devotees perform rituals for free of charge. The Lumbini Development Trust started charging entrance as well as fee for offering worship in the premises of the Mayadevi temple since Poush 9, 2061.
Journalist Suman Adhikari has urged fellow friends to write against the imposition of entrance fee which he said is against the Hindu and Buddhist faith.
The staff of the Trust refused to provide the estimate of the fees when asked about the revenue generated from the fees.