Home Asia Pacific South Asia Nepal


Second World Buddhist Summit concludes in Nepal
Xinhuanet, Dec 2, 2004
LUMBINI, Nepal -- The Second Buddhist Summit concluded Thursday in Nepal's southern city of Lumbini with a declaration on developing the birthplace of Lord Buddha as a worldpeace city.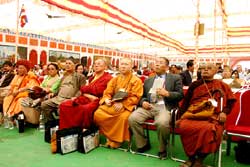 "We solemnly recognize the Holy Shrine of Lumbini as a source of eternal inspiration for the peace loving people of the world topromote world peace," delegates said in the declaration issued at the end of the three-day summit on Thursday.
The 10-point declaration calls for the Nepali government to promote and develop other holy sites near Lumbini evenly to undertake archaeological research and attract tourists, extend theGautam Buddha Airport in Lumbini into an international airport, and enact the law to establish an International Buddhist University in the city.
The declaration wishes to hold such World Buddhist Summits every four years in Lumbini.
The three-day summit also featured three working papers on the themes of "Indispensability of Peace in the Present World Context","Lumbini's Development and International Cooperation" and "Developing Lumbini as a World Peace City."
More than 1,000 representatives including government ministers,officials and religious leaders from 26 countries and regions haveparticipated in the summit with the theme of "Lumbini: A Symbol ofUnity in Diversity -- the Fountain of World Peace."
The first World Buddhist Summit was also organized by Lumbini Development Trust, a non-governmental organization, and promoted by the Nepali government on Nov. 30 - Dec. 2, 1998 in Lumbini.