Home Asia Pacific South Asia Nepal


Nepal discovers its own Buddhist version of Ajanta caves
PTI, May 9, 2007
KATHMANDU, Nepal -- Newly discovered murals in Nepal's Mustang district, similar to the famed Ajanta caves, may provide an insight into art and artifacts of medieval civilization, researchers said.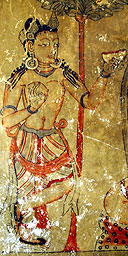 The newly discovered murals may help in further exploration of Buddhism, art and artifacts of that period, and medieval civilization, said Kosh Prasad Acharya, director general at the Department of Archaeology here.

Interestingly, the paintings were created in an Indian style, which is very unusual to have been discovered near Chinese border in Mustang.

These distinct and old paintings in difficult landscape reflect the medieval art, Neolithic art, culture, religion and civilization influenced by Indian lifestyle, Prakash Darnal, senior archeologist at the ministry of tourism and culture remarked.

It was really marvellous and exciting to learn that the murals depicting the life of Lord Buddha in the cave situated in Chhoser area of Mustang district bordering Tibet are similar to those found in the Ajanta and Ellora caves of India, he said.

It would be a great asset for Nepal to promote tourism in the area if we can preserve and carry out further exploration of these caves, he said.

The paintings dated back to the 12-13th century, which is really exciting to know, he said adding, earlier we had discovered paintings of 15th century in nearby Lomanthang area, the famous tourist spot situated at an altitude of 13,000 feet, 350 km north-west of Kathmandu.