Home Asia Pacific South Asia Nepal


Industries asked to be shifted from birthplace of Lord Buddha in Nepal
Xinhua, Jan 4, 2007
KATHMANDU, Nepal -- Nepali government has asked the industries located in Lumbini area, some 300 km southwestern Kathmandu, to shift from the birthplace of Lord Buddha, The Himalayan Times reported on Friday.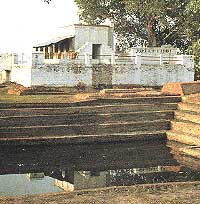 The birthplace of Lord Buddha is a United Nations Educational Scientific and Cultural Organization World Heritage Site.
"Scores of industries -- mainly manufacturing cement -- have been eyesores to the scenic beauty and spiritual significance of Lumbini. They will be asked to shift soon," Minister for Tourism Prithvi Subba Gurung told a seminar held here on Thursday.
He said the shifting will start in coordination with the Ministry of Industries.
An international meeting had shown that many countries were committed in developing Lumbini as an international center for Buddhism, he added.
"Another international meeting will be held to collect resources for development and conservation of Lumbini by year-end," he said, adding that Asian Development Bank recently sanctioned a 150-million-U.S.-dollar fund, which will be utilized in constructing an international airport so as to promote tourism in Lumbini.