Home Asia Pacific South Asia Nepal


UN-backed project to conserve Buddha's birthplace underway
ANI, Jan 12, 2011
Lumbini, Nepal -- An international team of archaeologists has begun a three-year survey, coordinated by the UNESCO, of the ruins of Lumbini, the birthplace of Buddha in Nepal.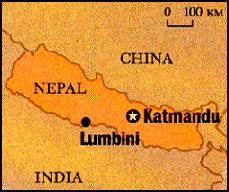 The survey on Lumbini, a world-renowned Buddhist pilgrimage destination, has been funded by the Japanese government and coordinated by the UNESCO office in the Nepalese capital, Kathmandu.

It aims to identify the presence, or absence, of archaeological deposits, invisible below the surface, so that appropriate placing of pilgrim facilities can be made without damaging valuable archaeological resources.

"UNESCO welcomes the implementation of this innovative and interdisciplinary project which mobilises national and international experts towards the strengthening and conservation of the World Heritage Property of Lumbini for the benefit of humanity," UN News Service quoted Axel Plathe, Head of UNESCO's Kathmandu Office, as saying.

Robin Coningham, a UNESCO archaeological expert and Professor of Archaeology, University of Durham, is directing the team, including experts from Nepal's Department of Archaeology and the Lumbini Development Trust.

"This project offers a unique opportunity to investigate some of the earliest developmental phases of one of the world's great religious traditions, and will introduce new scientific evidence into the debate surrounding the date of the Buddha's birth," Coningham said.

The three-year initiative is part of a larger project entitled "Strengthening the Conservation and Management of Lumbini, the Birthplace of Lord Buddha".