Home Archaeology


Help of Interpol sought to trace stolen Buddha head
Press Trust of India, Jan 1, 2004
Kolkata, India -- Interpol help has been sought to recover a Gupta-period Buddha head, which was stolen on December 29 from the Indian Museum here, museum officials today said.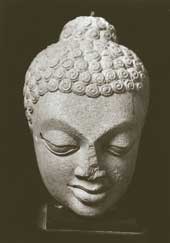 "The Indian Museum authorities sought Interpol's help yesterday to help recover the priceless piece made of sandstone and one of the most interesting exhibits," Director, Indian Museum S K Basu told PTI.
It was stolen from a glass-case in the archaeological gallery of the museum during visiting hours.
The museum authorities have written to the ASI about seeking Interpol's help.
He said the detective department of the Kolkata Police was currently investigating the theft. Police were also questioning the museum staff.
He said the Governor G K Gandhi, who is chairman of the Board of Trustees of the museum has convened a meeting of the board, which would take place here shortly.
Officials of the Centre's Department of Culture will discuss the incident and the security of invaluable objects housed in the museum.