Home Asia Pacific South Asia Bhutan


Duechhen Ngazom observed
By Rinzin Wangchuk, Kuensel Online, May 25, 2005
Timphu, Bhutan -- Thousands of devotees received blessings from the Neten Chudrug (16 Arhats, disciples of Lord Buddha) Thongdroel at a sacred ceremony conducted by His Holiness the Je Khenpo to celebrate Duechhen Ngazom (Lord Buddha?s Maha-parinirvana) on May 23.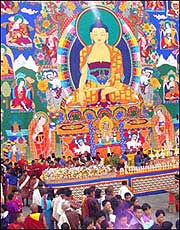 << Devotees congregate at the Tashichhodzong courtyard to receive blessings from the Neten Chudrug throngdroel
His Holiness, the senior lopons and more than 250 monks of the Central Monk Body conducted the Thubwang Neten Chudrug Choga, religious ceremony dedicated to the 16 Arhats.
Duechhen Ngazom is an auspicious day for all Buddhists because it symbolises Lord Buddha?s conception and birth, enlightenment, the subjugation of evil and death. The occasion is known as Vaisak or Wesar in some Buddhist countries.
Bhutanese Buddhists believe that one good deed or virtue done on this day will be rewarded with multifold merits.
His Majesty the King, members of the royal family, the prime minister, senior government officials, and some of the representatives of international agencies offered prayers during the sacred ceremony in Tashichhodzong.