Home Asia Pacific South Asia Bhutan


Thimphu domchoe
Kuensel Online, September 27, 2006
Timphu, Bhutan -- Schools and government institutions in Thimphu will remain closed on September 28, 2006 to celebrate the Thimphu domchoe.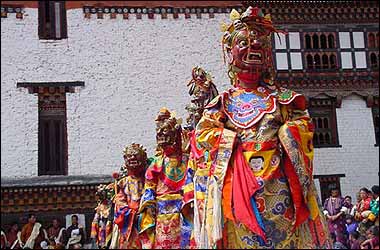 << Lham Tsomo dance
The Lham Tsomo dance, a highlight of Thimphu domchoe, will be performed in the courtyard of the Tashichhodzong tomorrow.
The 11-day annual Lhamoi Dubchhen, a rite performed for Pelden Lhamo (Mahakali), one of the three main spiritual protectors of the Drukpa Kagyue school of Buddhism, concludes today.
The Dubchhen was instituted sometime between 1705 and 1709 by Kuenga Gyaltshen, the first reincarnation of Jampel Dorji, the son of Zhabdrung Ngawang Namgyel.
The Thimphu Tshechu begins from October 1.