Home Asia Pacific South Asia Blangladesh


Arrests are Made after Three Men Attack a Buddhist Monk
Chakranews.com, March 31, 2011
The Buddhist minority in majority-Muslim Bangladesh have been constant targets by Islamic extremists
Chittagong, Bangladesh -- Three men were arrested by police after they barged into a Buddhist temple this week to attack a Buddhist monk during a religious function. The incident occurred at the Avoysharan Temple at Mirsarai.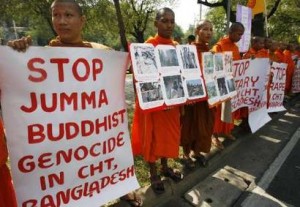 << The Buddhist minority in majority-Muslim Bangladesh have been constant targets by Islamic extremists
The full names of the arrested were not disclosed but local sources stated that one of the arrested is named Aminallah who is 28.
While a program was taking place at the temple about 15-20 men stormed in attacking the Buddhist monks as well as their followers. The culprits were armed with firearms, and sharp weapons which they used badly injuring Dharma Kirti Mohathero.
After the injury Moharthero was rushed to emergency at a private clinic in the city.
The clash happened do to tensions between two rival religious parties in the village of Damdama.
On the same night Moharthero`s brother Dhona Barua filed a case in connection with the whole incident.
Humayun Kabir, the officer in charge at the Mirsarai Police Station, said that the police had deployed several teams to arrest the criminals.