Home Asia Pacific South Asia Blangladesh


Monks call on UN to stop 'violence against Buddhists'
bdnews24.com, Mar 8 2010
Dhaka, Bangladesh -- A group of Bangladeshi Buddhist monks demonstrated Friday in front of the UN mission in Bangkok seeking its intervention in the Chittagong Hill Tracts.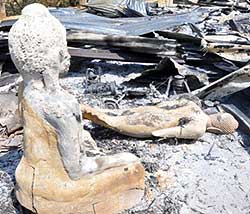 "We would like to request the United Nations to press the Bangladesh prime minister to end the military operation on Jumma indigenous people and stop the campaign to grab our land."

The protesting monks termed the recent violence in the hills as "attacks on the Buddhist community" perpetrated by the Bengali settlers and the Bangladesh military, the Radio Australia (ABC) reported.

The report quoted the monks as saying that the attacks in late February left at least two people dead, dozens injured, and still more missing after a village was set ablaze.

Speaking at the demonstration, Arjun Chakma, a member of the Bangladesh Jumma Buddhist Forum, said the Baghaichhari massacre occurred between February 19 and 23.

"The whole village was burned down by the military and Bangladeshi settlers."

He showed reporters photographs of a scene of the attack in which a village was burnt down. He also claimed that a Buddha statue given to the community by Thailand was destroyed but his claim could not be independently verified.

Amnesty International, a human rights group, has called on the Bangladesh government to launch an independent investigation into the attacks.

The AI said that although government officials confirmed two deaths, local people claimed that at least eight indigenous people were killed and their bodies hidden away.